BUY NOW
Fox In The Box
MUSIC + ART + BEYOND
02.01 (Fri) ~ 02.02 (Sat) / 17:00 to LATE
new wave / post-punk / funk / soul / disco / house

koss aka kuniyuki

KIKIORIX

sauce81

Sisi

Carlos Gibbs
Niseko Ice Village place
JAPAN / HOKKAIDO
Soga 355-2,Niseko-cho,Hokkaido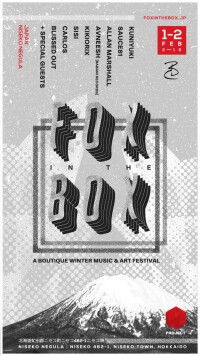 MUSIC x ART x BEYOND

FOX IN THE BOX is a 52-day boutique winter music & art festival in Niseko, Japan. The stunning
resort area features impressive mountain views hosting world-class DJs, Après igloo parties,
interactive art installations, delicious food & drink, and much more winter fun!

Teaming up with Rainbow Disco Club, the focus is on high quality music programming spanning
new wave / post-punk / funk / soul / disco / house and inspiring art installations throughout the
venue - don't miss out on being a part of this amazing weekend in the mountains!

Artists include Kuniyuki, Sauce81, Avneesh (Babani Records), Allan Marshall, Kikiorix, Sisi,
Carlos, Blissed Out, and more. Projection Mapping & VJ Visuals by Electrocaine.

Follow the fox and transcend into a blissful weekend of music and art in the mountains of
Niseko. The Magic is in the Box.

TRANSPORTATION

The closest international airport is New Chitose Airport in Sapporo. From there it's about a 2
hour drive to the venue. Alternatively, you can take the train or bus, which takes 3-4 hours. The
best way to get around is to hire a car and drive. This provides the most flexibility. There are
local trains, buses, and taxis as well. Shuttle buses to venue TBA.

ACCOMMODATION

There is a wide range of accommodations available in Niseko, Hirafu, and the surrounding
areas (Kutchan, Kombu, Annapuri). We recommend Annapuri Lodge. You can check Agoda,
Booking, Airbnb, or your favorite hotel booking site for availability. Please try to book ahead of
time to avoid disappointment!

share
Pop-out